Dear Readers,
(Please click on red links below)
If you are in favor of renewable,  clean, or solar energy, please sign this petition for FIT/CLEAN Program, accessible at http://sunisthefuture.net/?page_id=1065 Thank you very much.
———————————————————————————————————————————————————————-
Dear Friends and Readers,
Do you remember our January posts (Jan. 5, 6, 7, 9, 2012) regarding solar cookers ?  Take a look/read of them to refresh your memory.  Then, I will discuss a new challenge with you.  As some of you may have tried and  found out, solar cookers only work for a few hours in the middle of a sunny day, but not at night or in the mornings when people actually want to cook.  If we can use solar cookers any time of the day and night, it could replace open fires, solve dire deforestation, and indoor air pollution problems in developing countries.  So, last year, the Climate Healers, an international development technology organization, issued a design challenge after their traditional solar cookers failed to catch on in mountain villages in Rajasthan, India.  The Climate Healers is designing a new cooker that stores the solar energy by day to release it at night.  Students at the University of Iowa, working with Climate Healers, surveyed the women (who would use such a cooker) and found that they were enthusiastic about a new design that will enable them to use solar cooking during nights.
The starting point is a modified Blazing Tube solar cooker that serves as a baseline,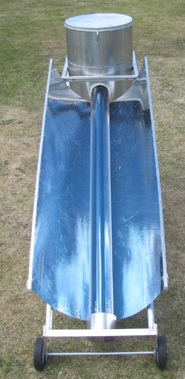 but it needs improvement. So, the Climate Healers has turned to the
E4C (Engineering for Change)
for help.  The baseline design places a three-gallon glass cylinder in the crook of a compound parabolic reflector-basically a tube on the bottom of a half pipe.  The tube filled with one gallon of oil and an air bubble, warms throughout the day and releases heat at night or the next morning through a heat pipe that the chef controls.  Climate Healers replaced the oil and air with three gallons of table salt.  The salt heated to 626F (330C) at the center of the tube, enough to yield 1KW hour of energy, enough to cook flat bread and lentils for about an hour.
The head of Climate Healers, Sailesh Rao, feels more needs to be done before reaching the final design because of the requirement for transporting large, fragile tubes to remote regions and the need to store adequate energy without leaks all need to be met.  So these three aspect need to be considered: 1. Energy capture 2. Energy storage 3. Energy delivery.
Just think that these designs have the potential to contribute to better health and healthier forests in India and many parts of the world.  Since early 2011, many teams of people have accepted the challenge of making a solar cookstove that works at night.  By Dec. 25, 2011, ten designs meeting this challenge had surfaced.  I would like to invite you to visit these ten designs of solar cookstove that works at night . These ten designs are: iHawk Cooker, Heat delivery system, PETE induction cookstove, CARES stove, Scheffler cooker, Solar box cooker, Parabolic cooker with steam, Box cooker with steam, Molten-salt solar cooker, Solar cooker with oil.
My hat off to Climate Healers and Engineering for Change (E4C) !  Again, we see the importance of the cooperative effort in solving our world's problems, meeting our world's challenges.
————————————————————————————————————————————————————————-
Engineering for Change (E4C) is an online platform and international community of engineers, scientists, non-governmental organizations, local community advocates and other innovators working to solve global development problems. The organization's founders are the American Society of Mechanical Engineers, the Institute of Electrical and Electronics Engineers, and Engineers Without Borders USA.
————————————————————————————————————————————————————————
~have a bright and sunny day~
Gathered, written, and posted by sunisthefuture-Susan Sun Nunamaker
Any comments and suggestions are welcomed at sunisthefuture@gmail.com
Please also get into the habit of checking at these sites below for more on solar energy topics:
www.youtube.com/user/sunisthefuture
www.kiva.org/team/sunisthefuture
www.facebook.com/sunisthefuture
www.pinterest.com/sunisthefuture

Tags: 100% renewable energy, American Society of Mechanical Engineers, Blazing Tube solar cooker, Box cooker with steam, CARES stove, clean energy, Climate Healers, E4C, energy, Engineering for Change, Engineers Without Borders USA, Heat delivery system, iHawk Cooker, India, Institute of Electrical and Electronics Engineers, Is The Future, Molten-salt solar cooker, Parabolic cooker with steam, PETE induction cookstove, Rajasthan, Sailesh Rao, Scheffler cooker, solar, Solar box cooker, Solar cooker with oil, Solar Energy, Sun, Sun Is The Future, sunisthefuture, sunisthefuture.com, susan sun nunamaker, www.sunisthefuture.net